Seafood Paella
Ingredients
300 g round rice, Bomba or Calasparra varieties
8 langoustines
1/4 kg of prawns
1 kg of mussels
1 kg of clams
1 monkfish bones or hake with head
1 green pepper
100 g green beans
1 large ripe tomato
2 cloves of garlic
Olive oil to taste
Salt and saffron threads to taste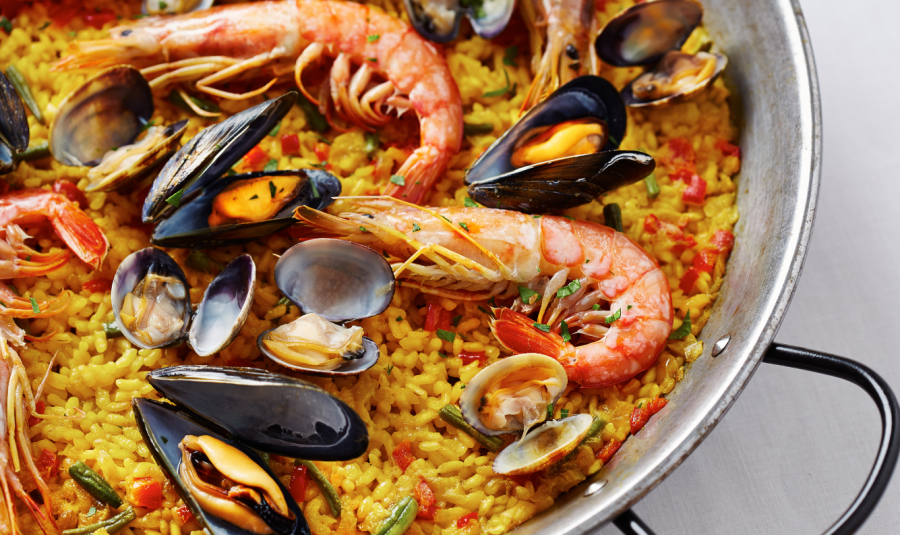 Instructions
Peel the prawns and place the heads and shells in a saucepan. Set aside uncooked.
Add the fish bones to the heads and shells. Cook with a litre of water. Set aside and keep warm.
Heat four tablespoons of olive oil in a paella pan or, failing that, a casserole or flat frying pan, and fry a whole garlic. Discard the garlic as soon as it is golden brown.
Add the finely chopped pepper, together with the green beans in small pieces. Sauté. Add the grated and deseeded tomato and a finely chopped clove of garlic.
When the sauce is ready, add the mussels. Remove the shells as soon as they are open.
Add the peeled prawns. Make sure there is still enough oil.
When the stock has reduced, add the rice and a few strands of saffron. Sauté.
Add the warm fish stock in double the quantity of rice, or as indicated on the packet. Turn the heat up high. Add salt and taste to adjust if necessary.
After three minutes, cook for a further fifteen minutes over a medium heat. Ten minutes before the end of the cooking time, put the langoustines on top on the paella in the pan.
Leave to rest for three minutes and serve with lemon wedges, which each diner can then sprinkle on the dish, if desired, to enhance the flavours.