Sanlúcar Langoustines, Marinated Olives & Spanish Oyster Thistle
Ingredients
Partridge and olive marinade
2 carrots
1 l liquid Manzanilla olives
1 leek
3 spring onions
6 garlic cloves
3 dried chilli peppers
6 lemongrass
150 g ginger
250 g Osborne reserva vinegar
500 g Manzanilla
500 g olive brine
1.5 l 'Olla Gitana' Sherry stock
8 red-legged partridges
Extra Virgin Olive Oil
Kefir lime
Spanish oyster thistle
'Olla Gitana' stock
Lemon zest
Pink peppercorn
Sanlúcar langoustines
Beef chop fat
Harissa paste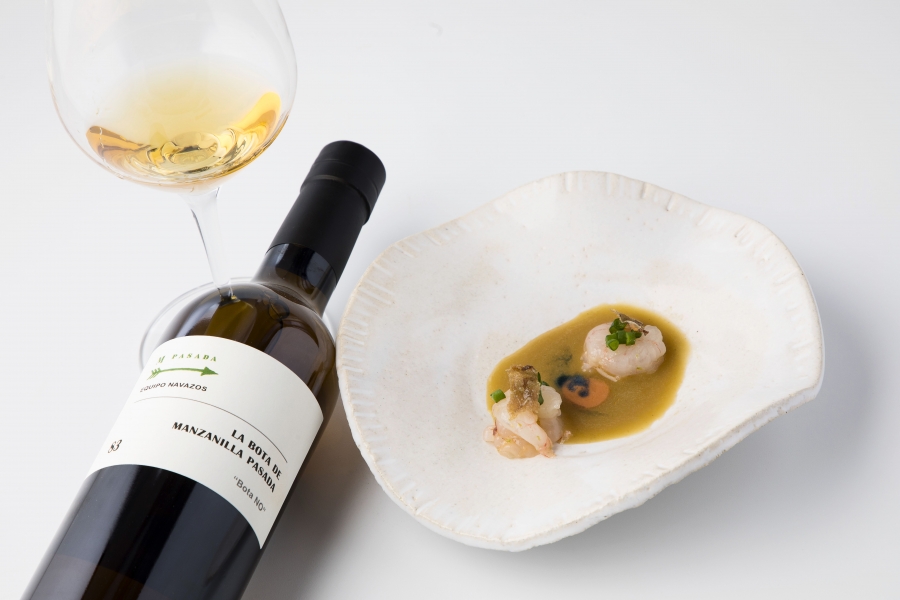 Instructions
Partridge and olive marinade. Blend the olives and set aside. Fry the crushed garlic until golden brown in the olive oil, add the carrots in fine julienne strips, then the spring onion, leek and shallot and fry until soft, without browning. Fry the partridges until golden brown on all sides and then add them to the sauce. Add the Osborne vinegar and the Manzanilla and reduce until almost dry, then add the olive brine and spices. Finally, add the 'Olla Gitana' stock, bring to the boil and cook over a medium heat for 20-30 minutes. Once the marinade has cooled, leave to infuse for 24 hours with the olive liqueur. Strain and thicken with Xantana and Manzanilla.
Spanish Oyster Thistles. Cook in the 'Olla Gitana' stock until al dente. At the last minute, bring to the boil, osmosing with a few drops of Osborne vinegar, lemon zest and pink peppercorn. Set aside.
Lemon gel. Put all the ingredients in a saucepan and bring to the boil, stirring constantly for 2 minutes. Cool until it gels, then blend to obtain a gel texture, remove the air and keep cold.
Partridge skin dentelle. Clean the skins, removing almost all the fat, and bake in the middle of a flat tray with a weight on top for 20 min. 180C, 20 min. 160C, then for 20 min. at 120C uncovered. Set aside.
Smoked langoustine coral emulsion. Place the langoustine coral, langoustine meat and the oil in a Thermomix, turn the Thermomix up to 80C on speed 6/7, once the temperature is reached, slowly add the stock and the seasoning. Thicken with Resource thickener. Smoke for two minutes with wine vine shoots dipped in Sanlúcar Manzanilla.