Galician-style Scallops
Ingredients
4 onions
5 slices of serrano ham
1 small glass of Albariño
2 tbsp of breadcrumbs
12 scallops
1 tbsp natural tomato purée
1 tbsp of chopped parsley
75 ml extra virgin olive oil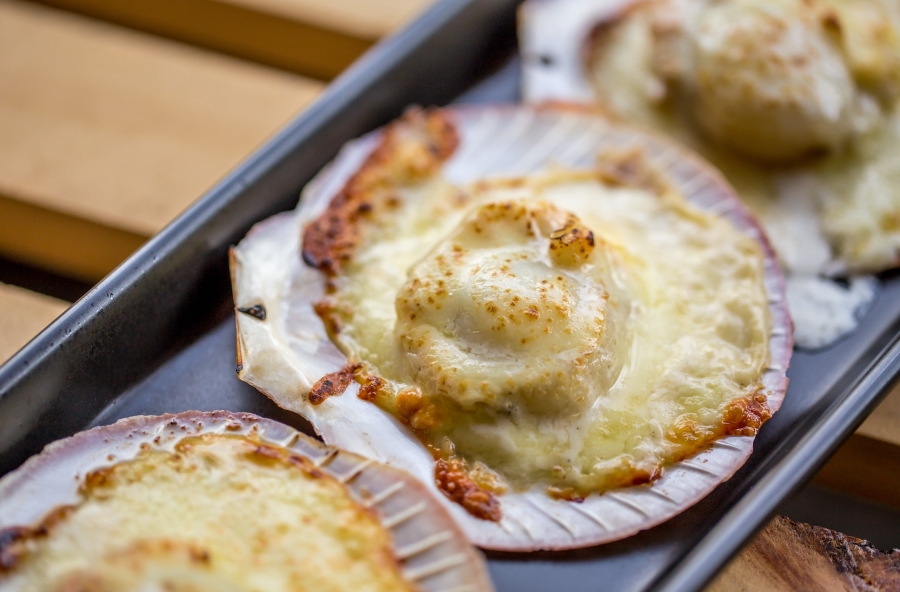 Instructions
Preparing the Galician-style scallop base
Peel and finely chop the onions in very small pieces so that they are not visible at the end of the preparation.
Chop the ham, either by hand or in a mincer. In the mincer it's more uniform and not find different sizes, remember that what should stand out in this recipe are the scallops. Set aside on a plate.
Heat a pan with the extra virgin olive oil and add the chopped ham.
Cook over a low heat for one or two minutes to seal the ham. Add the chopped onion (drain, as it tends to release its moisture).
Sauté for about 3 minutes over a medium heat to allow the moisture in the onion to evaporate. Stir throughout the process to prevent it from sticking to the bottom of the pan, then reduce the heat to low and simmer for a few minutes. Do not burn and spoil the base of the recipe.
Add the glass of white wine from Galicia. Always use a good wine, the same one you would drink with a meal and the recipe will thank you for it.
Stir and let the alcohol evaporate for 5 minutes. Add the homemade tomato purée, which gives it a characteristic touch and flavour.
Cook for another 10 minutes over a low heat, if you like a touch of parsley, add it now. Remove from the heat and leave aside.
Season with salt and pepper if needed, although it will almost certainly not be, as cooking with ham from the beginning will give it the salt it needs. But try it just in case it's bland.
Remove any excess water from the scallops and coral with a piece of absorbent paper.
Baking and final presentation of the Galician-style scallops
Add the scallops to the sauce and stir carefully, wait a couple of minutes more with the heat off until the scallops are well impregnated with the sauce, they will finish cooking in the oven.
Finally, preheat the oven to 200ºC.
Put the scallops in a shell (1, 2 or 3 depending on the size) with the sauté.
Sprinkle the surface with a thin layer of breadcrumbs. The breadcrumb coating will keep all the juices and sea flavour of the scallops.
Place the scallops in the middle of the oven at 180ºC for approximately 12-15 minutes. Top and bottom heat, no fan.
Check from time to time how they are doing, so they don't burn.
Finally, gratinate for about 2 minutes until they look like the golden colour shown in the presentation photo. Be very careful during this final step to make sure they don't burn.
Serve immediately piping hot straight from the oven on a plate with a shell in the middle. This is one of the most characteristic and famous recipes of Galician cuisine. Don't burn yourself and enjoy!